rides

let's thrive
the world:

Thrivid is een strategisch identiteit-, strategie- en creatieburo uit Zwolle. Door strategisch denken met de kracht van creatie te combineren, zorgt Thrivid voor impact en waarde voor en met haar klanten.
thriving
inspiration:
Wij vinden het leuk om organisaties, teams en mensen te inspireren en geïnspireerd te worden. En die dynamiek ontstaat bijna altijd als je even de tijd voor elkaar neemt. Dat kan op allerlei verschillende manieren. Tijdens werk, tijdens samen koken, tijdens een wandeling en tijdens andere momenten van ontspanning of gedeelde hobbies. Bijvoorbeeld tijdens een rondje te fietsen. En daar mag je ons altijd voor bellen.
let's thrive
the world:

Thrivid is a strategic identity, strategy and activation office based in Zwolle, The Netherlands. By combining strategic thinking and the power of creation, Thrivid builds impact and value for and together with her customers.
thriving
inspiration:
We like to inspire and be inspired by organisations, teams and people. And that dynamic is almost always created when you take some time for each other. This can be done in many different ways. During work, while cooking together, during a walk and during other moments of relaxation or shared hobbies. For example, during a bike ride. And you can always call us for that.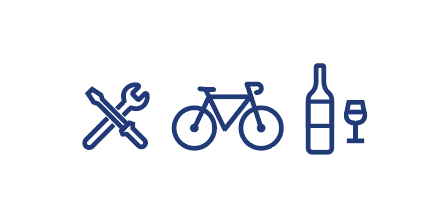 'What's more important,' 
asked the Big Panda,
'The journey or the destination?'
'The folks you meet,' 
the tiny Dragon answered.
contact:
Thrivid:
Korenbloemstraat 29
8012 XP Zwolle
+31 6 21 58 25 79
post@thrivid.nl
BTW NL001866906 B65
KVK 08173951
contact:
Thrivid:
Korenbloemstraat 29
8012 XP Zwolle
+31 6 21 58 25 79
post@thrivid.nl
BTW NL001866906 B65
KVK 08173951
Thrivid rijdt haar rondjes o.a. met en dankzij:






Thrivid wil impact realiseren die verder reikt dan het vraagstuk waaraan we mogen werken. Daarom nodigen we je uit om samen met ons bij te dragen aan de Sustainable Development Goals van de Verenigde Naties, de wereldwijde agenda voor duurzame ontwikkeling. We richten ons met name op de doelen rond betaalbare en duurzame energie, eerlijk werk en economische groei, industrie, innovatie en infrastructuur en samenwerkingen om deze en onze eigen doelstellingen te bereiken